Dix ans de plongée, en un clin d'oeil
Here I am, on my way back to Gili Air, Indonesia, from my Course Director Training Course just finished in Kota Kinabalu, Malaysia. I look back in time and think about all the great moments in the last 10 years; I smile when I think at my Open Water course back in January 2007, at all the unforgettable moments during my Divemaster course in the Maldives, and at the memorable Instructor Development Course (IDC) at the end of 2007 in Thailand.
Wow, it doesn't seem, it was 10 years ago when I started working as a Diving Instructor. Everything went so fast; the first courses taught freelancing on Koh Tao, then the great experience in Sardegna, Italy, teaching for the Orsodiving diving centre in the "fresh" (but amazing!) Mediterranean sea for two seasons, and so on, Playa Del Carmen in Mexico, Athoruga, in the South Ari atoll in the Maldives, back on Koh Tao in 2015 and then, since last year, at Blue Marlin 5 star Instructor Development Resort in Gili Air & Komodo. Unforgettable memories of amazing people, divers, local communities and breath-taking locations where I have been lucky enough to experience, live and teach diving.
Ma préparation et l'expérience étonnante du PADI Course Director Training Course
About two years ago I started taking the necessary steps to apply for the CDTC. During the last 20 months I grew up a lot in term of experience in Staffing IDCs and knowing the PADI system. A big thanks goes to the Course Directors; Mark Soworka, Bas van Riemsdijk, Marie-Lise Roux and Giny Scuba, who guided me on this process, and to Blue Marlin Dive, in particular Blue Marlin Gili Air and Blue Marlin Komodo for their support.
The CDTC in Kota Kinabalu
can simply be described as an amazing experience. 45 PADI Master Instructor sharing experiences, teaching techniques and being taught by the most experienced PADI Staff, in addition to this a good amount of fun surrounded by an amazing scenario and a super luxury hotel. Doesn't it sound like an explosive mix? Indeed, a wonderful course involving a great learning process that refined the knowledge acquired during the IDCs I staffed and fully prepared me to be able to run IDCs. And yes, I can now say that I am a PADI Course Director!
The experience didn't just prepare me to teach IDCs. The whole process was seasoned with the collaboration of others Course Director Candidates, coming from all around the world. That created a dense network of Course-Director-Friends that will remain forever. Great connection that will be valuable in the future if any of my IDC Candidates or friends need a connection to other Diving-realities! (and, of course, vice versa). Not enough. I had the possibility to participate at the Familiarization trip in Labuan Island, organized by the Malaysian Tourism Office. The aim of this trip was to let us (brand new Course Directors) know about this region that is developing is diving-tourism. It was an absolute pleasure; we have been hosted in special diners, amazing dives in very important wrecks and we also ended up on TV (click to see the it) and some Journals (click to see: 1, 2, 3). How could it be better?
Futur bleu à l'horizon; IDC en Indonésie, à Blue Marlin PADI 5 Star Instructor Development Dive Resort in Gili Air et Komodo
My past experiences and the CDTC prepared me to teach IDCs, but I think that this is not enough. I think that in order to offer valuable Instructor Development Courses a CD needs a Diving centre with the right structure, facilities and mentality. Blue Marlin is absolutely this, and more! I am lucky enough to have the possibility to start operating as a Course Director in a great Diving Company in Indonesia that count 5 diving resort in Indonesia and 25 years of operation, The Blue Marlin Dive. We are planning to run IDCs monthly in at Blue Marlin Gili Air & Blue Marlin Komodo, 2 PADI 5 stars Instructor Development Resort amazingly well organized.
PADI 5 Star Instructor Development Dive Resort à Gili Air
Gili Air is a small island at 1.5 hours by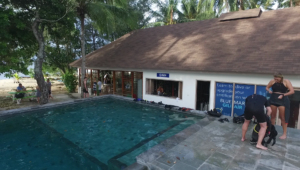 boat East from Bali, next to Lombok. It is one of three small islands known as « the Gilis« . If you are looking for crazy nightlife you want to go to Gili Trawangan, if you are in a honeymoon, go to Gili Meno, if you want something in between, Gili Air is the place you are looking for! Indeed Gili Air is amazingly balanced, resulting in a perfect spot to take an IDC.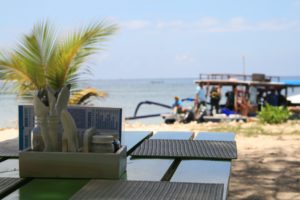 What about the diving? Typical Indonesian crystal water and the possibility to see turtles, sharks and seasonally whale sharks; does this answer the question? The Blue Marlin 5 stars Instructor Development Dive Resort in Gili Air opened about one year ago. The dedicated pool, the boats, the shop, the restaurant, everything is brand new and built in perspective of teaching PADI courses and IDCs. With the support of a fantastic staff I am looking forward to teaching my first IDC in Gili Air.
PADI 5 Star Instructor Development Dive Resort à Komodo
The Dive spots in Komodo are located in a protected national park
and the first thing I can say is that diving there is just astonishing, another world! The diving centre is situated in Labuan Bajo on the famous Flores island. Among all the high quality facilities and the expertise behind the diving centre we offer to candidates a list of great advantages among which, the most important are; 1 day trip in the Komodo National park with 3 dives, and the possibility to use the dedicated pool during the course.
In fact Blue Marlin Komodo is the only diving centre that can proudly offer a diver dedicated training pool, other schools have to move by car to the sea, this is an enormous advantage for our candidates and students. In addition to this, Blue Marlin Komodo has a terrace where at the end of the day you can enjoy a spectacular and breath-taking sunset.
IDC en Indonésie; IDC en Gili et Komodo
We will run monthly IDCs enriched with the PADI Emergency Oxygen Provider Specialty Instructor Course and the PADI Basic Freediver Course included in the price. Advantageous packages for your Master Scuba Diver Trainer, the great opportunity to dive in the Gilis and in Komodo National Park during the IDC – MSDT and so much more!
If you have any questions please do not hesitate to contact me using the chat (bottom right of this page), Skype, or at either info@dive-education.com or idc@bluemarlindive.com. Have a look at our online brochure (here) for detailed information.
I wish you a happy day and happy bubbles!